Networking is work, but it doesn't have to be torture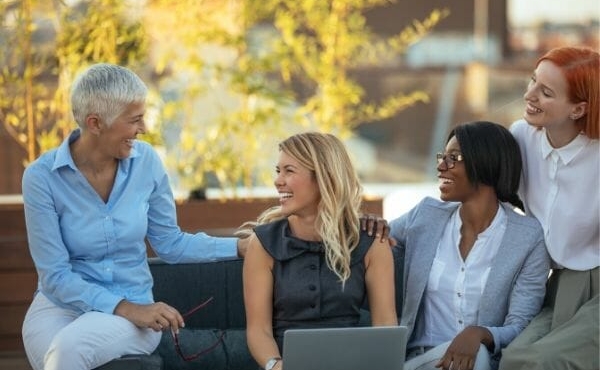 Networking is the kind of word that often makes people instantly feel guilty and nervous. As a working woman, it's the thing that makes me feel the most behind because I always feel like I could be doing more. Even as a classic extrovert, networking is still work for me! Every job offer I've received has been a product of networking, not applying through the traditional methods, so I understand the value of connection.
Below I've outlined three ways you can improve your network without investing more time than it's worth:
Network to be networked
I'm constantly surprised by how often people want to be introduced to someone or who will reach out and ask for mentorship, but they aren't paying it forward themselves. If you want to be the kind of person that people think of when an amazing opportunity comes up, you have to be a connector. These types of people are my favorite to work alongside. They aren't shy about introducing you to their connections because they know it will only help them in the long run.
Challenge yourself to make at least one helpful introduction a month for past or current coworkers or your employees. This could be as simple as an email or text introducing someone you know could be right for a job opening you saw. Don't overthink this! Just follow through on the thoughts you have about how two of the people in your network could benefit each other. It's this kind of outreach that helps you to stay on the radar of some of your most valuable connections.
Attend conferences and events
After a long day at the office it can sometimes feel like torture to go to an after-work event, but force yourself to go to some kind of event once a quarter and simply introduce yourself to people you don't know. I find that while this kind of work seems annoying at first, I always leave events feeling invigorated and reminded of why I enjoy the kind of work I do because I'm surrounded by like-minded individuals. This is especially true of conferences. Ask around in your network and see what conferences may be coming up and make a case to your manager about why your attendance will be valuable to the company, and then make sure you take advantage of it personally.
While you're attending the conference, make a goal of how many new people you'll meet and stick to it.
Want to attend a great conference? Consider our Aspire Her Conference!
Be gracious and thankful to your connections
There are many simple and straightforward ways to remind your network that you're thankful for them. I have 10-15 mentors that I reach out to regularly and simply remind them of how much their guidance has meant to me. At first it felt a bit awkward to send a gushy email or written thank you note, but now that I've made it a habit it's like second nature. In fact, one of the CEOs I used to work for once told me that he so looked forward to these notes and that it was one of the reasons people liked working with me. It's now became part of my personal brand. I also know it's one of the reasons he promoted me much faster than I anticipated.
Being the kind of person who takes just a few minutes out of their day to thank a coworker will help strengthen your network faster than anything else.
Networking doesn't have to be formal or complicated to be effective. When you make it a priority to connect people, surround yourself with people in your industry and to graciously thank those in your network, it'll become part of who you are.