2021 Conference Schedule
June 11-12, 2021  |  Draper, UT
We've curated a lineup of expert speakers for an event jam-packed with helpful information about overcoming common financial hurdles, mental health for working women, and being a better entrepreneur.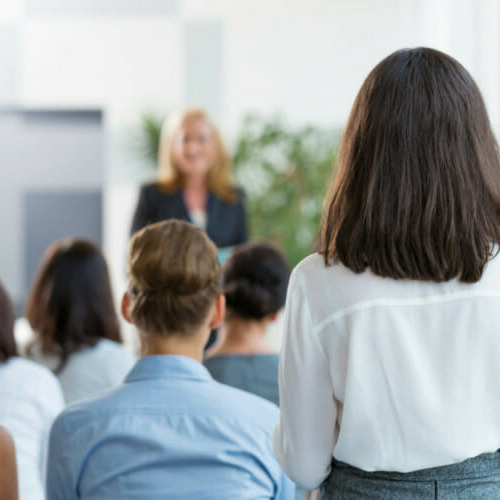 Aspire Her 2021
General Session (Auditorium)
Breakout Room #1 (Auditorium)
Day 1, Friday, June 11, 2021
9:00 AM
INTRO/KICKOFF: Erin Weist
GENERAL SESSION: Marcella Hill– Success From the Flaws
An interactive workshop filled with examples and stories that will lead you to find your purpose within your job or company. Take inventory of what's in your way, and learn the steps to let them go. Walk away with a new clarity, passion, and ability to apply the things you already know.
Speaker: Michelle Gifford
Topic: The Secret to Creating Content that Converts: How to stop creating content that no one sees and start creating content that changes lives and your business.
Learn how Michelle's simple Core Content Code formula will help you get more out of each piece of content without spending any more time. By the end of the hour, you will have a clear plan of action for creating content for YOUR business, you will know when and where you should be showing up online, and you will have the confidence to put that plan into action.
Speaker: Camilla Jeffs
Topic: The Path to Wealth – 3 Simple Strategies to Start Investing in Real Estate
As a woman, you are uniquely positioned to take hold of your family's current and future financial success. If you dream of traveling the world with your family, retiring early, and creating a legacy for your family, real estate investing is hands down the best vehicle to get you there. The problem is, real estate investing typically comes with a steep learning curve and a ton of work managing the properties. Allow me to show you a better way where you get all the benefits of real estate investing with none of the hassles of being a landlord.
Speaker: Patricia Haywood
Topic: Being a Disrupter: How to thrive in male-dominated industries
Speaker: Cyd Tetro
Topic: Art of the Ask
How can you fearlessly ask for what you need or want for your business or career? Every one of us, through the course of our careers, is faced with situations where we need to ask for something that makes us uncomfortable, feel inadequate and even question ourselves. Asking is an art and understanding how to break through the barriers and what tools can help define the ask, create the right mindset and enable you to negotiate the outcome you need is critical. Whether it's fundraising, a promotion, a sales deal, a partnership or anything else – being fearless in the ask accelerates opportunity.
Speaker: Charlotte Geletka
Topic: How to Build Your Financial Confidence
Understanding your money and how it works gives you choices, freedom and the ability to help others. I am going to help you shift your money mindset, give you steps to implement today to take control of your finances and build your financial confidence. Money is part of your personal power. When you are in control of your money you are more confident about your future and your goals and you make informed financial decisions from a place of strength. When you change your finances, you change your future.
Speaker: Carolyn Fraser
Topic: Rooted in Resiliency: Develop a Winning Mindset for Success!
2021 is the comeback year and one full of possibilities! In this session, Carolyn will inspire participants to create new possibilities, plan to win, and learn actionable strategies to develop a made up mind. Topics will include strengthening your mental grit, ways to love your authentic self and how to better hold yourself accountable to your dreams.
12:00 PM - Lunch / Network/ Shop / Service
1:30 PM
Speakers: Alison Geskin
Topic: Become Smarter. Better. Faster (Part 1)
Get ready to transform your thinking, overcome obstacles and set a path towards success. Together we are going to roll up our sleeves and get to work – prioritizing and providing solutions in the areas of your business that matter most to you. Get ready to create your own roadmap towards greater empowerment that will leave you inspired to take action as soon as you leave the conference.
Speaker: Brittany Ratelle
Topic: Business Boundaries 101: How to Protect your Brand, Profits & Sanity
Attorney Brittany Ratelle will guide entrepreneurs in how to set up and protect the most important boundaries in your business so you can have a strong scaffolding around your revenue streams, intellectual property, and roadmap to growth. Learn about copyrights, trademarks, how to avoid giving discounts, price your offer correctly, and better negotiate for yourself. Leave with digestible practical tips and more confidence in yourself as a business owner without losing your sense of self (or humor!)
Speaker: Janae Chandler
Topic: Financial Planning When You've Got Big Dreams
Have budgeting and planning for your financial future taken a backseat while you've been focusing on pursuing big goals? I'm here for you! In my presentation, I will teach you how to balance your big dreams for the future with the practical realities of your current financial situation. If you get overwhelmed at the thought of getting serious about your personal finances, this class is a perfect fit. Join me and I'll blow your mind with financial insights that are key to building wealth. I'm here to inspire and empower you on your journey to master your finances.
Speaker: Alison Geskin
Topic: Become Smarter. Better. Faster. (Part 2)
Part 2 of creating your own roadmap to empowerment, prioritizing and providing solutions in the areas of business that matter most to you.
Speaker: Britt Larsen
Topic: Why You Need a Personal Brand (and How It's Not What You Think!)
Learn from Executive Career Coach Britt Larsen about how to determine the best way to align who you are with what you want from your work. Whether you own your own business or working towards a promotion at work, Britt will help you protect yourself, plan for the future, make more money and be more successful.
Speaker: Tiffany Rosenhan
Topic: The Power of Creativity and Perseverance
What do inventing medical devices and writing spy thrillers have in common? Both require an inordinate amount of attention to detail, patience, innovation, fortitude, and most importantly . . . creativity! When outcomes are unpredictable and problems remain unsolved, unlocking your own creativity is your greatest asset! Use it! After all, if you don't tell your story, who will?
3:30 PM
GENERAL SESSION: Brooke Ibanez– Cultivating Resilience Through the Winds of Change
Resilience can be described as the ability to both withstand and bounce back from difficult life events.  Becoming more resilient will not only help you get through difficult circumstances; it will also empower you to grow and improve your quality of life along the way. Come join Brooke Ibanez, LCSW, lead a validating and inspiring discussion about the struggles we have all faced over the past year.  You will learn about opportunities for building resilience that are present within these struggles.  You can expect to walk away from this presentation with a renewed sense of personal power, having new tools you can use to build your own resilience no matter where you are and no matter what is happening around you.  
Day 2, Saturday, June 12, 2021
9:00 AM
INTRO/KICKOFF: Erin Weist
GENERAL SESSION: Trina Celeste Limpert– Unleashing Your Superpower: How to identify & utilize your genuine genius
As CEO at RizeNext, Co-founder of Tech-Moms.org and as Global President of Women at eBay, my work throughout the years has been to uncover, activate and empower the unique thoughts, ideas and abilities that exists in each and every one of us. Each of us has a personal superpower that is needed in so many ways and keeping it buried benefits no one. This session will help you recognize your own personal "genuine genius" and how to unleash it to the world!
Speaker: Rachael Kay Albers
Topic: GET UNFORGETTABLE: Build a Binge-worthy Brand That People LOVE (And Loves Them Back)
While the rest of the WWW obsesses over "going viral," we're over here building brands that go the distance. Part marketing masterclass, part one woman show: you'll learn how to build a body of work that builds community AND curiosity — from a business comedian and court jester of online marketing! What's that? Come to find out, stay to get unforgettable.
Speaker: Sara Urquhart
Topic: Staring Down the Power, Emotion, Guilt, and Trepidation Around Money
Speaker: Tricia Dempsey
Topic: The Fast Path to 6-Figures
Earn six-figures in six months, become a high demand, high paid coach or consultant with a waitlist of dream clients and build a loyal tribe of followers and fans (in as little as 4 hours a day) using the ThriveHer Five framework.
11:00 AM
Speaker: Kourtney Thomas
Topic: Your Resilience Toolkit: 4 surprising skills to set you up for strength in any situation
What's in your toolkit? As women in business, we find ourselves faced with both new and amplified challenges on the daily. Overwhelm and obligations for work, home, and self don't go away, but our sense of how to deal with them in the face of change, uncertainty, and isolation can falter. Set up for success with 4 unexpected (but wildly effective) ways to get grounded, stand strong, and respond quickly, confidently, and authentically – no matter the situation.
Speaker: Salsa Queen
Topic: When Life Gives You Tomatoes– Make Salsa!
The inspirational story of how an immigrant, single mother of 7 with no work experience or even a high school degree built the fastest growing and largest producer of fresh, gourmet salsas in Utah, which are now distributed nationwide.
Speaker: Trissa Sarmiento
Topic: Is a Career in Tech For You? Tips for your journey
If you are looking to upskill, transition, start, or pivot your career… have you considered the tech industry? Come explore, learn, and expand your vision of the possibilities in tech.
12:00 PM - Lunch / Networking
1:30 PM
Speaker: Ashley Spurlock & Raechel Duplain, Bright Zebra Marketing
Topic: The Ultimate IG Marketing Strategy: How to use Instagram for every stage of your buyer's journey
If you use Instagram for your business, this session is for you! Instagram is one of the most widely used social media platforms for brands and entrepreneurs. But Instagram now has so many features and types of content that it can be overwhelming (to say the least) to figure out how to use Instagram the best way for your business. What makes Instagram an incredible—and incredibly effective—marketing and sales tool is its unique ability to touch every stage of the buyer's journey, from brand awareness to making sales—all while building authentic relationships with your audience. Come to this session to learn our approach to leveraging content for each stage of your buyer's journey and ultimately—bringing in more revenue.
Speaker: Corinne Hone
Topic: Become a Money Mindset Master
"Money doesn't grow on trees." "Money is the root of all evil." "Making money is hard work." Chances are pretty high that you've heard these sayings at some point in your life – but are these sayings true or are they holding you back from the financial freedom you've been chasing? Join business coach Corinne Hone to learn how money mindset work can benefit both your personal finances and your business development in "Become a Money Mindset Master". Get ready to uncover the financial blocks that have been holding you back so you can master your money mindset and move towards financial freedom with clarity and purpose.
Speaker: Aireka Harvell
Topic: 5 Reasons I Left Corporate Life and 5 Things I Learned After Doing It
Speaker: Becky Harward
Topic: Life Under Construction
Home Renovator turned Home Builder, Becky Harward, tells the hilarious tale of her journey into the "boys club". You'll laugh and you'll cry in her "tell all" account of turning her average life into a successful company, instagram, and blog: @beckyintheboysclub. She'll also share her secrets to building her career in the male-dominated world of New Home Construction.
Speaker: Dennissa Valdivieso
Topic: Turning Dreams into Reality
Your dreams are just a date and decision away! Of course there are steps in between and I'm here to share with you what has worked for me in creating a life that is filled with satisfaction and the fulfillment of most of my dreams.
Speaker: TBA
Topic: (TBA)
3:30 PM
RAFFLE ANNOUNCEMENTS: Erin Weist
GENERAL SESSION: Amelia Wilcox– Pivots and Grit
Come listen to Amelia's story about how a company can go from $6M to $0 and come out stronger on the other side.