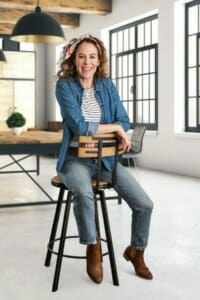 Welcome! I'm Erin, the founder of Aspire Her, and here is my story.
I was a stay-at-home mom with 5 kids and had homeschooled my kids for about 10 years.  When my kids started going to school I found myself wondering what the next phase of my life would be. And I realized I wasn't alone.
There were so many women looking for help, wanting an outlet for their drive & ambition; wondering how to start a business, advance their career, or start their career and not knowing where to go for help.
I had zero network, zero experience in business, and zero idea what I was doing. But I had an idea, an abundance of determination and an intense drive to make something happen.
So I "Leaned In" (thanks Sheryl Sandberg!)  June 2019 I registered Aspire Her® (and applied for a trademark, which we now have!) and got to work. I connected with everyone I could on LinkedIn– people from old neighborhoods, from high school, everywhere. I researched who were inspiring women in Utah and started calling ALL of them to see if they wanted to be involved.
And they did! Overwhelmingly so.  I told them I was putting on a conference and they jumped in with both feet.  We had people volunteering almost everywhere we went and I wanted to weep with gratitude.  EVERYONE leaned in.
We are building our community every day and are so thankful to be connected with all of you.  Every woman deserves to feel supported, encouraged, and mentored in their ambitions, to be given resources to change the world because that's what we do!  Please join us– raise your voice in your community, climb the ladder at work, see how high you can reach– Aspire Her is here to help you along the way.
Now registration is open for our 2nd conference. We are adding speakers every day and it's going to be just as awesome as the first one.  I've had a crash course in business and it's been a crazy, thrilling, overwhelming, fantastic rollercoaster.
I love this new purpose I've found.  I love running this conference.  And mostly I love the people I've met, they astound me every day.  Come join us so I can meet you, too!