3 Ways Women Devalue Themselves in the Job Search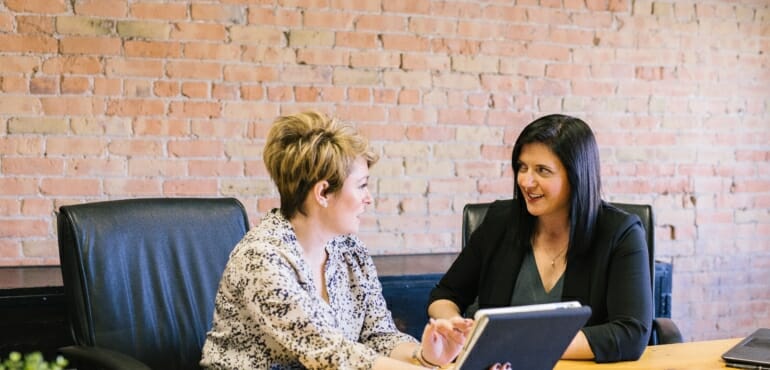 [vc_row][vc_column][vc_column_text]
Women job seekers have plenty to offer – but we regularly sell ourselves short.
HR professionals say it's a trend they spot among women looking for work across the board, from entry level positions to highly competitive corporate roles. Even when we're trying to put our best foot forward, we're often leaving critical skills and details off of our resumes, failing to highlight our most impressive accomplishments and downplaying our best qualities.
Are you selling yourself short? Keep reading to learn about some of the most common ways that we as women devalue ourselves during the job search.
1.We keep quiet about our soft skills and downplay our hard skills.
Well-rounded candidates have a balance of hard skills (quantitative abilities) and soft skills (interpersonal and communication abilities). Studies show that women tend to downplay both skill sets on resumes and in interviews. We don't highlight "masculine" traits like assertiveness, confidence and strong leadership since we don't want to face backlash at work or be passed up for promotions. At the same time, we may not focus on our soft skills as much as we ought to for fear of coming across as "delicate".
Remember that excellent leaders have a combination of hard and soft skills. Strong written and verbal communication, interpersonal skills, problem solving ability, creativity and a solid work ethic are important prerequisites for almost any role, whether you're a man or a woman. So highlight your ability to solve complex problems but don't be afraid to point out that you're a stellar communicator or a talented creative – employers look for well-rounded candidates; not ones that solely possess hard or soft skills.
2. We don't think we're qualified
A recent LinkedIn study found that women are 14 percent less likely to apply for a job after viewing it than a man – and not feeling qualified for the position is one of the main reasons that women hold back.
In reality, few candidates can check off every requirement when applying for a high-level position. Even if you feel under-qualified, there's no harm in submitting a resume – you might be pleasantly surprised to learn that your skills are sufficient for the job. You could also discover that there's a different position available at the same company that could be a better fit. And the worst thing that could happen is that you simply don't hear back. When in doubt, it's better to try than to be paralyzed by "what ifs".
3. We don't ask for referrals
The same LinkedIn study uncovered a drastic difference in how men and women approach referrals for jobs. Men are 68 percent more likely to ask for a referral for a position than women. Researchers have some theories for this discrepancy; the biggest reason could be that women only apply for jobs that they feel exceptionally qualified for, meaning that a referral doesn't seem necessary in many cases.
Don't miss out on the opportunity to ask for a referral – a good word from a current employee, a former employer or an impressive personal reference can go a long way. It's also good to stay in touch with former employers and colleagues so that you can call for a reference when needed. Lastly, if you know someone working at the company where you're applying, see if they're willing to recommend you – that's another powerful way to make sure your resume gets noticed.
A few simple resume changes can make a massive difference as you try to land your next job. Highlight your hard and soft skills, believe in what you have to offer and ask for people to recommend you – and above all, apply for the jobs that you want, not only the ones that you feel qualified for.
[/vc_column_text][/vc_column][/vc_row][vc_row][vc_column][/vc_column][/vc_row][vc_row][vc_column]
Interested in more career tips like these?
[vc_column_text]
Join us June 11-12 in Salt Lake City at the Aspire Her conference, an annual gathering of thousands of driven business women just like you.
[/vc_column_text][vc_btn title="GET YOUR TICKET" shape="round" color="pink" size="lg" link="url:https%3A%2F%2Fwww.aspireher.com%2Fconference-info%2F|title:Conference%20Info"][/vc_column][/vc_row][vc_row][vc_column][vc_empty_space][vc_column_text]
Sources:
https://www.theladders.com/career-advice/men-puff-up-success-linkedin-women-undersell
https://www.hrdive.com/news/women-are-more-selective-when-job-searching-but-ask-for-fewer-referrals/549962/
https://www.hrdive.com/news/women-undersell-themselves-on-resumes-report-finds/550142/[/vc_column_text][/vc_column][/vc_row]